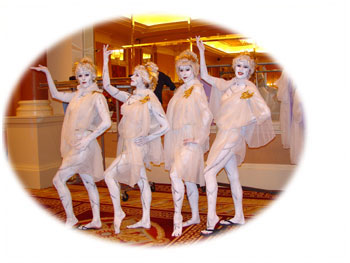 ITD full body application to create 4 gorgeous Roman Statues for Gala New Years Eve 2002 at Ceasars.
Welcome to our service page. All pricing includes self-contained theme system, tattoo artist, setup and breakdown. Our customer base includes the leaders in all segments of the entertainment, promotional and event coordination market. In Addition to providing tattoo artists for your venue, Island Tribal is now able to offer the following services to our customers.
Custom designs of corporate logos or other similar artwork
Full body application of logos and themes
Professional staff allowing for up to 10 artists
Thematic stations to go with your functions
The following is our Special Events rate billing. Full body application and custom designed logos are priced according to job specifications. Please call for a price quote. There is a minimum $100.00 charge for any custom logos. The prices listed below are for the Las Vegas and surrounding area. For out of state venues please email your request to tom@islandtribal.com .
Special Event hourly rate:
$129 One artist (approximately 40-60 designs per hour)
$119 second artist (approximately 80-120 designs per hour)
$109 third artist (approximately 120-180 designs per hour)
$99 fourth artist (approximately 180-240 designs per hour)
With an increased demand and overall desire for interesting venue talent, clients search far and wide for our popular service. ITD Professional Body Art lasts two to five days and can be taken off with baby oil or isopropyl alcohol. ITD premium body paints are water resistant, instant drying, and made in the U.S.A with non-toxic FDA approved ingredients (safety data sheet available upon request). ITD carries $2,000,000 in personal liability insurance. Let us bring excitement to your next function. Please feel free to call or email with any questions.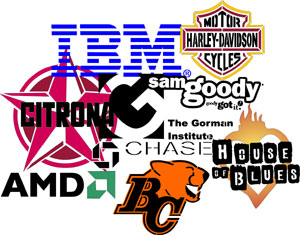 Custom Logos designed by ITD.
For more see our gallery here.
ITD Patrons
Desinations By Design
House of Blues
Spagos
Saks 5th Avenue
Hard Rock Trashy Lingerie Party
Rain in the Desert
Foundation Room
Paramount Productions
Baskow and Associates
Studio 54
Victoria's Destinaion Services
Venitian
Ceasars Palace
Always Entertaining
Baby's
Bellagio
Remax
McDonald's