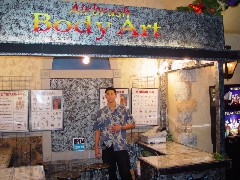 In this tutorial we are going go over the basics and fundamentals of finding retail locations negotiating rental agreements and what to look for and what pitfalls to avoid.
All the info in this tutorial is based on ITD, inc. experience in owning and operating over 20 retail locations over the past 7 years. Individual results will vary depending on how much effort and time one puts in. This information is not intended to replace legal advice or business consulting.
Over the years we have been asked many questions regarding the Airbrush Tattoo business aspect. Through out this tutorial we will cover the following questions in the order of most commonly asked.
How much can I expect to make?
Where should I look for a location?
I think I know a good location, how do I land it?
How do I set up a location?
What is a fair rent or percentage to pay?
What amount of daily traffic flow do I need to make a profit?
What are the best hours of operation?
What paper work do I need in order to operate?
How much should I pay employees?
What other areas can generate revenue?
How do I minimize inside skimming?
How much can I expect to make?
This is the big question and there is no exact answer. Different areas and different venue types can hugely affect the daily gross. In our experience a good high traffic location during the summer can provide rushes from open till close. At some of our busiest locations we can knock out over 200 tattoos a day during the summer. Because we are essentially reselling the air, our profit margin is extremely good, hence making this Business much easier to succeed than my other startups.
Where should I look for a location?
The most important thing to consider is traffic flow. The more traffic and the closer you are to the traffic flow the better you will do. Here are some key points.
Avoid setting or being placed off the beaten path. We have found that being positioned more than 5 feet away from the traffic flow can hugely decrease sales.
Age group. Venues with the age group between 12-40 work the best. (Note: Airbrush body art is not just "a for kids" attraction. Many prospective locations will assume this is geared towards kiddies, but in fact the majority of our business comes from teens to adults.
Possible permanent locations include: Theme Parks, Zoo's, Water Parks, Tourist Traps, Beach locations, Busy Malls, Store fronts
Possible part time/special event venues: State/county fairs, Street festivals, Night clubs, Flea Markets, corporate events, Bar Mitzvahs, Weddings, Biker-car rallies, Concerts, sporting events, school events, fund raising, pageants, promotional marketing events, Birthday parties, Tournaments, Grand openings,
If you are unsure about a location ask to open on a trial basis. Some locations kick during the weekend but die during the weekdays, for these type of locations you can try to negotiate a week-end only deal.
I think I know a good location, but how do I land it? Before you approach a possible location make sure you do your homework. Talk to existing vendors or stores to find out how sales are doing. Visit the prospective locations during the morning, afternoon, evening, weekdays and weekends to see what kind of consistent traffic there is.
Once you are convinced you have found a satisfactory location do the following.
A . Put together a presentation packet; this can include business info and card, some photos of the product, sketch or rendering of proposed display. 1 or 2 paragraphs introducing the idea.
B . Contact the person in charge and request an appointment. It's a good idea to wear one of your finest full colored ITD, Inc. airbrushed tattoos to display at the appointment
C. PERSERVERE, FOLLOW UP, FOLLOW UP, and continue to FOLLOW UP! Tip : in our experience leasing and retail managers are notorious for never getting back to you, so keep pestering until you get an answer.
How do I set up a location?
As far as display goes you may have to use your imagination. Some locations will request that you fit in to their theme, others will supply a kiosk. For some ideas view our picture gallery and turn key mobile unit. When setting up your location keep these points in mind.
A. Display of designs and pictures should be upright to attract by passers.
B. Spray area should be clean, tidy situated in full view so onlookers will crowd and watch. In this business crowds breed crowds.
C. Signage and lighting is very important. It is a good idea to use the word TATTOO or BODY ART big and bold, these words tend to catch the eye.
What is a fair rent or percentage to pay?
When prospecting a new location we follow this rule. We don't like to pay over 30% of gross sales. Of course anything below is better, so look to negotiate for the best fair deal. This rule applies to monthly rents as well. For example, If you speculate a possible location may yield an average of $250-$300 per day in gross sales, $250×30 = $7500 in monthly gross sales. Shoot to pay less than $2500 in monthly rent. Once again the lower the rent the more profit
. Bare in mind that 30% in our opinion is a premium, and is reserved for the best locations. If you can get your rent for 15-20% of gross, this would be much better by our standards. The only time a 30% or higher rent can be justified, is for a dynamite location such as a busy theme park or tourist location.
What amount of daily traffic flow do I need to make a profit?
In our experience we have found that any location that can provide 3000+ people of daily traffic has good potential. Factors that can cause adverse results include, majority of age group, season, weather, and setup location.
What are the best hours of operation?
All locations vary. As long as we think we can sell at least 2-3 tattoos an hour during the slow periods, we will stay open. Many locations such as malls will have mandatory hours so this factor may be out of your hands. Keep records and make adjustments.
What paper work do I need in order to operate?
This is a list of paperwork that we usually have to have in order to operate. Business license, health exemption, insurance, pay roll and workers comp, health exemption, sales tax exemption (Technically airbrush tattoos are a service so sales tax should not have to be charged). Rental agreement in advance may be needed in order to acquire a business license.
How much should I pay employees?
Our average employee pay is 7-8$ an hour. Keep in mind that Tattoo sprayers usually make decent tips.
What other areas can generate revenue?
Pre paid special events, custom body themes, promotional marketing, custom designs, Airbrush tanning, home stenciling, and training.
How do I minimize inside skimming?
First you need to work the location to gage potential of income for all days of the week. 2 keep a log of all sales reports. 3 periodically do register count, 4. We perform background and drug tests on all new employees. Tip: A dishonest person will skim regardless of treatment or pay, so try and find someone with integrity from the start. Follow the one strike and your out rule, for example if you catch someone skimming let them go immediately.