In this tutorial we explain how to apply a basic single layer armband. When done properly this should take under a minute. (Note: in high traffic locations minimal color variation and single layer tattoos are your bread and butter) We assume that you have all the correct equipment to do the job and that you have some familiarity with the airbrush. Please read instructions thoroughly before attempting the process.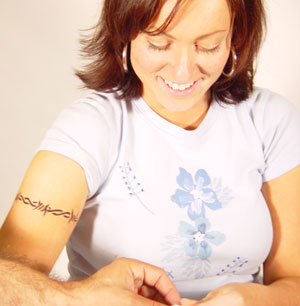 Here is an image to show you the final product. In our example we have chosen the classic barbed wire. For the most realistic look we have selected Island Tribal Designs, Inc. black non-toxic waterproof cosmetic paint. The paints are applied via an airbrush at 15-22 psi.
(Step 1) Start by choosing a good spot for your design. The most popular placement for armbands is higher up on the arm just below the deltoid muscle. Keep in mind that your designs should compliment the contour of the body.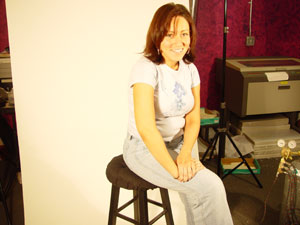 (Step 2) Before we get started painting, prepare the surface of the skin using a cotton pad dampened with isopropyl alcohol. You may also wish to wear a pair of hypoallergenic vinyl gloves for sanitary reasons. If necessary, roll up the sleeve and tuck in a paper towel to prevent over-spray.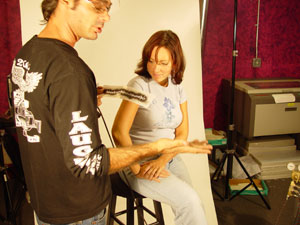 (Step 3) Place stencil around prepared arm. Using one hand to hold the stencil, clasp it from behind to hold it firmly to the skin (this takes some practice, you may wish to have someone assist you in holding the stencil).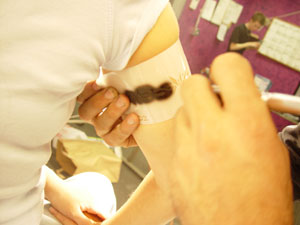 (Step 4) Begin spraying approximately 2 1/2inches from the surface starting from one end of the stencil slowly working towards the other. While painting make sure to slightly angle the airbrush away from the sleeve. Keep the airbrush moving and be careful not to lay the paint on to heavy.
(Step 5) Remove the Stencil; thoroughly wipe off any over-spray with cotton pad dampened with isopropyl alcohol. Using a cosmetic brush Lightly powder with talc powder to set the tattoo.