In this tutorial we will focus on the proper equipment set up, and maintenance information necessary for a well functioning airbrush body art system. We will assume that you have a fundamental understanding of how an airbrush and compressor work.
Step 1: Equipment check: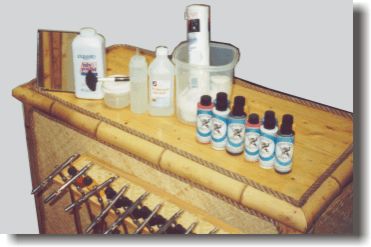 In this setup we will be using eight colors and ten airbrushes. You must first have the following equipment, most of which can be found in the ITD 2004 Advanced Professional System:

One open-end adjustable wrench
One compressor with regulator and hose:   minimum 40psi, oil & maintenance free
One ten-port manifold:   assembled using brass fittings found at hardware store
One ¼" 6.3 mm Hex Connector
Ten Airbrushes, ten 10ft airbrush braided hoses: preferably Iwata HP units
Ten 1oz plastic airbrush spray bottles with caps
Nine 4ounce bottles of ITD Paint:  black, blue, red, green, yellow, orange, pink, white, purple
110 ITD Stencil & Display Package
Work unit with airbrush holders
One bottle of isopropyl alcohol
One container of cotton pads
One cosmetic powder brush
One container of talc or baby powder
One small garbage container
Two stencil organizers
Step 2: Compressor Hose / Compressor Assembly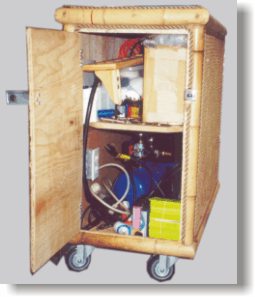 Prepare the threads of the hose using Teflon tape. Attach the compressor hose to the compressor outlet. Use the adjustable wrench to snug the threads down. If you live in an extra humid climate you may need to install a moisture trap before attaching the hose. Moisture traps can be found at most hardware stores. Notice the ITD rolling, portable, work /storage unit seen in this picture doubles as a compressor silencer. We designed it specifically with special events in mind.
Step 3: Compressor Hose / Manifold / Hex Connector Assembly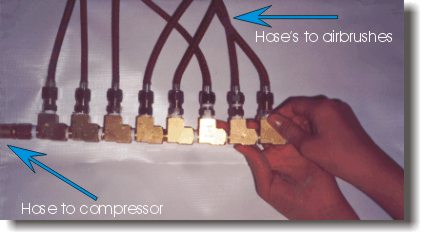 Your next step is to attach the manifold to the other end of the compressor hose. Both hose and manifold must be threaded tightly (use adjustable wrench) into either end of the Hex Connector. We recommend that you use Teflon tape around the threads of the hose as well as the manifold. This will prevent air leakage, which in turn will keep the compressor from over working and overheating.
Step 4: Airbrush Hose / Manifold Assembly
Thread the airbrush hoses onto the Manifold ports, then snug hand tight (do not use wrench). There is no need for Teflon tape here, as the airbrush hoses have rubber seals. Be careful to avoid crimping the hoses. Repeat process until all the hoses are attached.
Step 5: Airbrush / Airbrush Hose / Spray Jar Assembly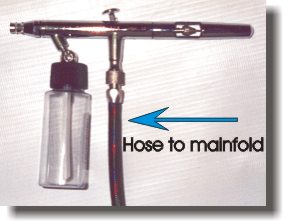 Be sure you have a firm grip on the airbrush as you thread it to the airbrush hose. Here again, there is no need for the use of Teflon tape or the adjustable wrench (just snug by hand). Insert 1oz plastic spray jar into the bottom of the airbrush and gently twist until secure. Place airbrush / spray jar into airbrush holder. Repeat process.
Step 6: Compressor Adjustment
Before plugging in the compressor be sure that the off/on lever is in the off position. Plug in compressor and flip lever to the on position. When the compressor tank reaches maximum capacity, your compressor should automatically shut off. Take this opportunity to listen for possible air leaks in your system. If everything has been properly installed there should be no air leaks. Next, set the compressor regulator to approximately 20psi.